Take Your Employee Scheduling to the Next Level
You can interact with WorkSync to find the best candidates to fill out your needs  based on criteria you select. With the unique ability to choose employees based on their number of hours worked and determine which might be approaching overtime, administrators can make informed choices.
Criteria that can be selected for choosing employees for shifts include distance from corporate, their workgroup, or position. Additionally, you can select years of seniority, hourly status, years of experience, and several other options.
WorkSync by Attendance on Demand that allows employees to help drive and fill your scheduling needs. Qualified employees can see shift opportunities and fill or swap shifts. Empower your employees to define their own work availability and preferences.
Using WorkSync, you can manage the time and dollar flow of labor costs. Overtime, rounding, and shift differential are just a few of the added calculations available. Take it all with you through the mobile app. Whether you're on a desktop or using a mobile device, employees can pick, fill, and swap shifts.
When you want scheduling that works with your time and attendance, get the scheduling that is made for it. In comparisons with other scheduling providers WorkSync will take less time and save you on your budget line.
Gain Insights into your Workforce
Our analytics provide visibility into your workforce data for labor spending, attendance patterns, and coverage problems, making it easier to see issues and make decisions.
Using our app or web-based ESS, employees can better control their shifts. With WorkSync, they participate in their scheduling and collaborate through messaging and threaded conversations with coworkers and managers… all archived for compliance.
We can help you plan when and how employees work… from understanding your labor needs, to scheduling the right people, locating replacements for absent workers, and letting employees pick, fill, and swap schedules.
With Visual Scheduling, you define your ongoing or event-based needs for each position. Then, we help find the best-fit candidate by filtering based on your criteria. Scheduling workspace features visual cues for over- and under-staffing, graphical depiction coverage throughout the shift, and notifications for schedule assignments and changes.
Managing your Employee Benefits
Our time and attendance solution saves you time and money by helping you track your employee benefits. We can hep you manage your staff by offering assistance with compliance, leave, and give you data you can use to improve your staffing options.
---
EASY ACCESS
Attendance on Demand is a secure, web-based solution that allows you to manage your employees from any internet connection. The information is securely hosted within a managed data center.
FULL SUPPORT
The all-inclusive monthly fee features our award-winning technical support team's quality services.
QUICK SET-UP
Whether you are interested in HID proximity time clocks, biometric HandPunch time clocks or online employee kiosks, Information Controls can get your hosted Attendance on Demand solution started right away!
---
Attendance Enterprise Licensed Solution
Attendance Enterprise™ continues the tradition of the Attendance product line, developed by Infotronics, in solving labor tracking-related problems such as complex company pay rules, attendance monitoring and flexible reporting. Scalable and designed for ease of operation in any type of business setting, Attendance Enterprise delivers a breakthrough technology that eliminates the need to maintain two different systems. Vital features can be accessed using Internet Explorer. Each user has the ability to adjust, sort and maintain their unique preferences. Advanced time and attendance functions monitor employee attendance, calculate complex pay rules, and make employee scheduling easier and more efficient. Whether you're a controller with the need for online labor analysis, a payroll manager with the desire to eliminate unnecessary bottlenecks, a supervisor wishing to streamline your workload or an employee taking advantage of employee self-services, Attendance Enterprise is the right fit for your enterprise.
Attendance Enterprise is a full-featured time and attendance system that improves employee time tracking, scheduling, and reporting.
Stay informed with real-time dashboards of essential labor information.
Identify attendance exceptions, such as tardiness and absenteeism, and take action quickly.
Eliminate unapproved overtime.
Automate time off requests and approvals.
Correct and approve employee time cards quickly.
Empower employees and minimize inquiries to HR with Employee Self-Service.
Cut payroll costs by automating complex payroll policies.
Simplify regulatory compliance and wage audits.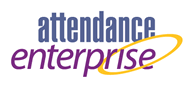 Attendance Enterprise Overview – PDF